What Is Covid Brain, And How Long Does It Last?
So you've finished your treatment and heard a few people talk about their COVID-19 experience. However, you've also heard warnings about its side effects and duration. But now, more than a year later, you're still experiencing "brain fog"—or cognitive impairment-- on some days.
What does this mean for you?
Continue reading to learn about the 'COVID brain,' its duration, how covid causes it, and more. 
An Overview of COVID Brain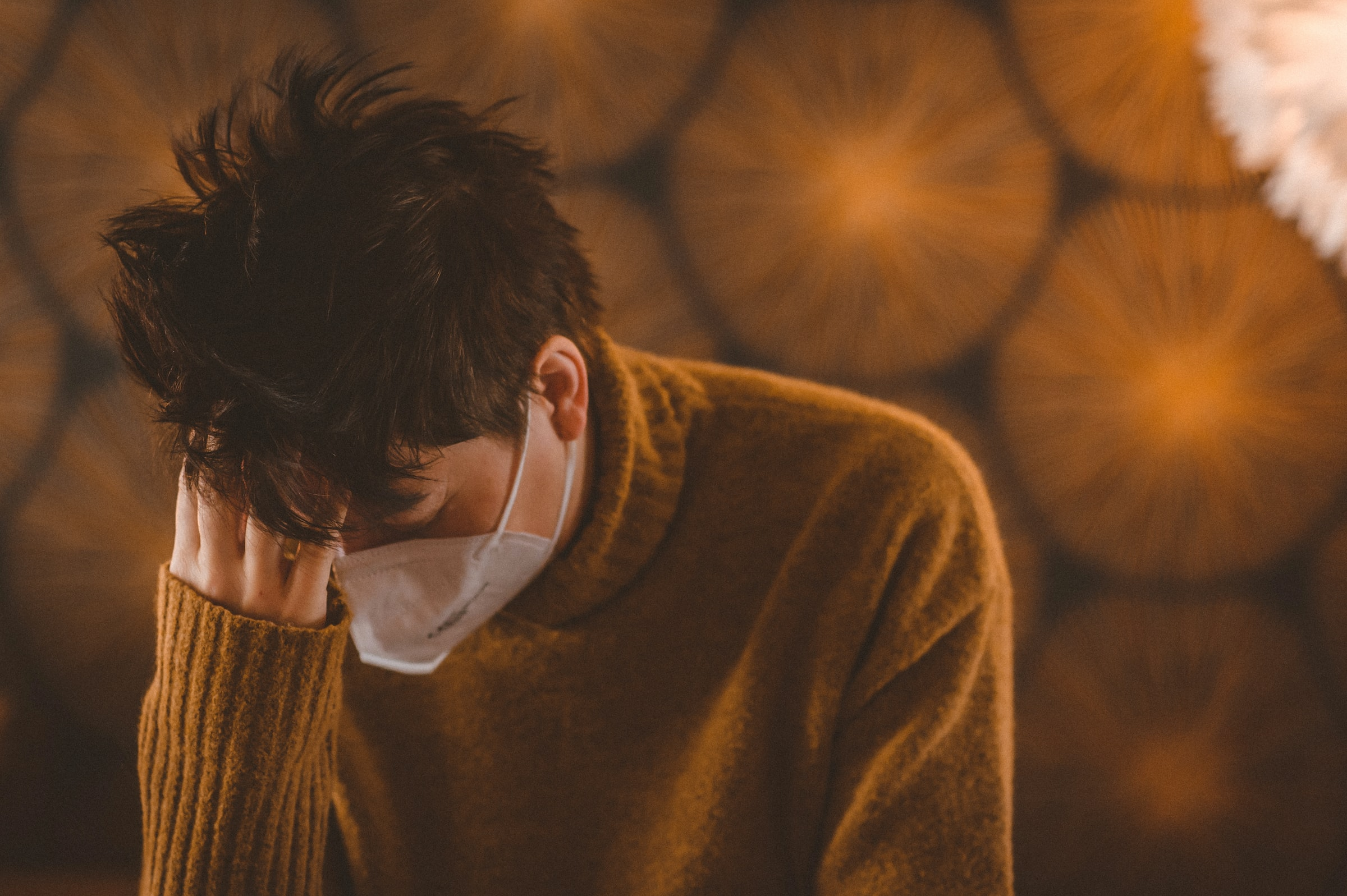 What is COVID-19 Brain Fog?
Brain fog is not a documented medical condition. Instead, it's a phrase used to convey the sensation of having a slow, foggy, or disoriented mind. This condition is observed in about 25% of post-Covid patients.
Neurological Symptoms
Some notable symptoms associated with brain fog are as follows:
memory issues

inability to think clearly

lacking focus

migraines

bewilderment

Feeling lost

Slow or sluggish thinking
The majority of people periodically undergo bouts of mental fog. After a restless, sleepless night or when you've been under a lot of stress, you've probably felt mentally drained.
In some cases, what some doctors call "covid brain fog" can endure for several weeks or longer and may include some of these persistent symptoms like lethargy and mental cloudiness. 
Other Long COVID Symptoms
Long COVID symptoms can last up to four months after infection for people with post-COVID problems. The symptoms can subside or return at times.
Different people may experience post-COVID symptoms in different ways. Somebody with post-COVID illnesses may suffer from health issues due to various sorts and combinations of symptoms occurring multiple times. It usually takes time for patients' symptoms to improve. However, for some individuals, post-COVID problems may persist for months or even years after a COVID-19 illness and occasionally lead to impairment.
Most frequently, those who encounter post-COVID symptoms report:
General signs
Fatigue or weariness that affects daily activities

Symptoms that worsen after exerting oneself physically or mentally (sometimes called "post-exertional malaise")

Fever
Heart and Respiratory Symptoms
Respiratory issues or lack of breath

Chest discomfort and cough

Hammering or heart rate increase (also called heart palpitations)
How COVID-19 Causes Cognitive Impairment
The likely reason for brain fog in COVID-19 patients is still under investigation. There is evidence that both biological and psychological elements could be at play.
It is believed that the novel coronavirus, also known as SARS-CoV-2, which causes COVID-19, primarily spreads through direct contact with an infected person. Through your lips, nose, or eyes, that person's respiratory droplets could go inside of you.
The coronavirus enters your body through the angiotensin-converting enzyme 2 (ACE2) receptor and then travels to your cells. The virus can infiltrate your brain tissue because it is neuro-invasive.
Several case studies
According to trusted research, some COVID-19 patients have side effects such as altered awareness or encephalopathy. Encephalopathy is a generic term used to describe damage to or illness of the brain.
Increased quantities of inflammatory cytokines were identified in the fluid around the brains of individuals weeks after their COVID-19 infection, according to a study from January 2021. Your immune system produces molecules called cytokines that promote inflammation.
Your brain's inflammation impairs neurons' capacity to communicate with one another.
This could be a contributing factor to brain fog.
Additionally, after COVID-19, researchers have discovered microstructural alterations in the hippocampus and other regions of the brain. They think that these modifications could exacerbate cognitive dysfunction.
Additional Factors That Affect Brain Fog
As was already discussed, inflammation in and around the brain can cause mental fog. There are additional ways, though, that COVID-19 may unintentionally cause brain fog.
Several potential contributing elements include:
inadequate sleep 

Solitude 

Sadness

Increased stress or anxiety

Diet modifications

Several drugs' adverse effects

reduced physical activity
How frequent is it?
Let's consider research to understand different brain fog prevalence in those who have experienced COVID-19 and brain fog symptoms.
Recent Studies
According to recent investigations, COVID-19 symptoms include a changed mental state in 7.5 to 31% of cases. This estimate, however, may not be relevant to a more significant population because it was based on limited studies.
Additional Research
According to other sources, neurological symptoms may affect up to 69 percent of persons who have experienced severe COVID-19 sickness, which suggests that they may be more common than previously believed.
It's currently unclear why some people have brain fog while others do not. Severe COVID-19 patients appear more likely than those with mild illness to experience neurological symptoms. 
Severe Difficulties Relating to the Brain
Critically ill patients stand a higher risk of experiencing symptoms like delirium, seizures, and inflammation of the cerebral matter and adjacent tissues.
Connections With Alzeimers
According to the findings of a short study, the brains of COVID-19 patients displayed some of the same biochemical abnormalities as those seen in Alzheimer's disease. This may explain the memory impairments that people who have COVID for a long time face.
Research led by Andrew Marks, MD, of Columbia University in New York City, and colleagues used an autopsy of 10 persons who died from COVID-19 to establish a relationship between the inflammatory response in SARS-CoV-2 infection and pathways generating tau hyperphosphorylation, which is closely correlated with Alzheimer's disease.
According to what the researchers reported in Alzheimer's & Dementia, the findings also pointed to a possible part of leaky ryanodine receptor 2 (RyR2) in the pathophysiology of SARS-CoV-2 infection.
According to these findings, long-term post-COVID brain fog might be a kind of Alzheimer's disease; nevertheless, further research is needed before researchers can come to more conclusive findings. 
The fact that they detected anomalies in multiple molecules is the paper's most important contribution since it helps identify the neuroglial dysfunction in these patients on a biochemical level. This is the paper's primary strength. Because no histology was done to look for Alzheimer's-like pathology, it is difficult to extend the results of this study to the development of Alzheimer's disease.
How Much Time Does it Typically Last?
The typical duration of post-COVID brain fog is currently unknown. After recovering from their severe respiratory illness, some patients experience brain fog for several weeks or even months.
Research released in December 2020 shows roughly 28% of individuals continued to experience concentration issues after being hospitalized for COVID-19 for more than 100 days.
In a different study, researchers discovered that, among 60 patients who had recovered from COVID-19, 55 percent exhibited neurological symptoms even three months later. These signs comprised:
mood swings, 

exhaustion, 

headaches, 

distorted vision
How to Tackle Post Covid-related brain fog
At this point, practicing healthy behaviors is the most effective treatment for brain fog brought on by COVID-19. If you've struggled with persistent brain fog, the following suggestions could improve your mental function and health conditions.
Sleep as much as possible - getting enough of the right kind of sleep will help your body rebuild and recover.
Engage in regular physical activity - Increasing the amount of exercise you get, even if it's just 20 minutes of walking daily, can positively impact the amount of blood that flows to your brain and help quickly restore brain health. Not only is this good for your heart and lungs, but it's also a fantastic method to improve your cognitive abilities, so make sure you do it!
Eat well - You should work on improving your diet because eating processed meals, fast food, and sugary sweets and drinks all contribute to an inflammatory condition and prevent healing from occurring. You may benefit from the guidance of a licensed dietitian nutritionist (RDN). In other words, make an effort to eat a nutritious and well-balanced diet to provide your body with the food it requires to get back to being in excellent health.
Stir Clear of tobacco and alcohol - If you want to reduce the inflammation in your brain, you must abstain from using tobacco products and drinking alcohol.
Take brain supplements and Vitamin D - To promote healthy brain and nerve function, take a vitamin D supplement of 1000 or 2000 international units (IU) once daily. In addition, you can incorporate high-grade and trusted memory booster supplements like Morilite Cistanche Tubulosa Brain Supplement into your daily routine. 
Exercising the mind and memory - The mind and memory can be strengthened by training just like other muscles in the body, such as the biceps. Participate in activities such as crossword puzzles, card games, Sudoku, or Wordle; read publications such as newspapers, magazines, novels, or technical manuals. Help is available from every possible source.
Researchers are continuing their investigation into the possible benefits of steroids for lowering inflammation in the brain, which may contribute to alterations in cognitive abilities.
The Journey to Recovery From Brain Fog
Attempting to return to previous activities as much as possible within the first few months after being infected with COVID-19 should be prioritized. Be patient with yourself, and if there is a new physical or cognitive symptom post-COVID-19, gradually resume the exercise or activity at a slower speed over several weeks. 
If there is no new symptom, continue with your routine. Keep in mind that the healing process for brain cells can take months, so do your best not to grow upset during this time. If you make the adjustments to your lifestyle mentioned earlier, you may be confident that you are maximizing your chances of healing.
If your cognitive problems are so debilitating that you cannot work in any capacity, or if you notice symptoms for more than six months following COVID-19 infection, talk to your health care provider or a specialist at Newport Neurology about your signs and how they can be treated.
When should you make an appointment with a physician to discuss your symptoms?
If your psychological problems are interfering with your everyday life or if they haven't improved after two weeks, it's best to contact a doctor.
If you have COVID-19, you must seek medical assistance as soon as possible if you experience any of these accompanying symptoms:
You have trouble breathing. 

Experiencing chronic chest pain or increased chest pressure 

Heightened heart rate

New mental disorientation

Difficulty staying awake or difficulty waking up with bluish fingernails or lips 

Difficulty remaining awake 

Trouble waking up
Conclusion
Some patients with long COVID symptoms report cognitive fog after their respiratory symptoms have disappeared. This can last for weeks or months. It is hypothesized that various physiological alterations in the brain and psychological variables may play a role in developing this severe illness.
The question of why some persons acquire neurological symptoms of COVID-19 while others do not is one that researchers are still attempting to answer. Suppose you have had COVID-19 and continue to experience cognitive difficulties that impair your ability to think critically. In that case, you must schedule a follow-up appointment with your primary care physician.
Resources we used to create this article:
https://www.mskcc.org/news/msk-researchers-learn-what-s-driving-brain-fog-people-covid-19
https://www.ncbi.nlm.nih.gov/pmc/articles/PMC7273036/
https://www.cell.com/cancer-cell/fulltext/S1535-6108(21)00051-9
https://www.ncbi.nlm.nih.gov/pmc/articles/PMC7533666/
https://www.ncbi.nlm.nih.gov/pmc/articles/PMC7889402/
https://www.cell.com/cancer-cell/fulltext/S1535-6108(21)00051-9
https://www.cell.com/cancer-cell/fulltext/S1535-6108(21)00051-9
https://alz-journals.onlinelibrary.wiley.com/doi/10.1002/alz.12558
https://alz-journals.onlinelibrary.wiley.com/doi/10.1002/alz.12325
https://www.ncbi.nlm.nih.gov/pmc/articles/PMC7527190/
Have anything in mind?
Leave a Comment!